Native plants help sustain birds and beneficial insects
(Read article summary)
A growing movement in North America advocates planting more native plants that are needed by birds, bees, butterflies, and other beneficial insects.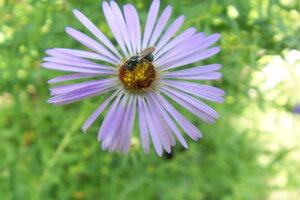 Courtesy of Donna Williamson
Recently, I was reading an article about biennials in a magazine devoted to people who raise bees. Like people who feed birds, I have a lot of respect for folks who extend themselves to care for pets or other non-human beings.
The article was well written and interesting. What I began to notice, though, was that almost all of these plants that are a routine part of our gardens were from somewhere else.
Plants to attract bees
Canterbury bells (Campanula spp. – Southern Europe), forget-me-not (Myosotis spp. -- Europe), hollyhock (Alcea spp. – China), honesty (Lunaria annua – Europe), mullein (Verbascum spp. – Asia and Europe), and sweet william (Dianthus spp. – China and Russia) are major players in our gardens.
The only native plant on the list was the pansy of the Viola family. There are many native violas.
While I am not a zealot about native plants, I think it's valuable for us to balance our showy plants of origins elsewhere with natives to feed our insects and thus our birds.
This year I qualified as a Doug Tallamy groupie, having heard him speak at three different conferences. He is an entertaining presenter with science delivered in understandable ways to large audiences who cheer him. Not an easy task. His book, "Bringing Nature Home," is equally interesting.
---