How to grow and prepare carrots
(Read article summary)
A chef and a gardener team up to give advice on growing and cooking carrots. Included is an easy recipe for roasted carrots with a sweet and tangy dressing.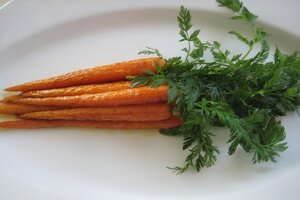 Courtesy of Linda Weiss
Carrots are easy to grow in the cool days of spring.
I (Anne) was surprised to learn that wild carrots were originally purple, not orange. For fun, grow purple, yellow, or white carrots. You might want to try the All-America Selections award-winning Purple Haze carrot. The award means it was grown as a trial in many parts of the US and Cananda and is considered easy to grow in most areas of the country.
Planting advice
Loose soil is key for growing carrots, so they can extend their roots deep into the ground. If you don't have the perfect carrot soil, don't be discouraged. Use a large pot filled with good soil, deep enough to allow the carrot roots to grow straight and long. Sprinkle the carrot seed on top and filter loose soil over the seed.
Either in the ground or in a container, be sure to keep the soil moist with even watering. Using mulch over the bed will help keep down weeds and hold moisture in the soil.
If you are working with clay or rocks in your soil, you can plant the short, round carrots. Paris Market is a round heirloom. The heirloom Danvers also does well in clay. Scarlet Nantes is an old standby from gardens and markets past.
Since carrot seeds are slow to come up, plant radish seeds, which fairly jump out of the ground, in the same row with the carrot seed. These will mark your row so you know where the carrots are and help to thin the carrots as you pull the radishes. The carrots should be thinned to two to four inches apart in rows 1-1/2 to 2 feet apart. Plant the seed one-fourth to one-half inch deep.
Depending on the variety and the vagaries of early spring weather, you can expect to harvest carrots in 50 to 100 days. Be sure to keep the soil loosened and free of weeds by hoeing along the row.
---