Thoughts about trees for Arbor Day and all year-round
(Read article summary)
As national Arbor Day approaches, it's time to think about trees -- planting them for future generations, teaching kids about them, and learning how to estimate the age of a large tree.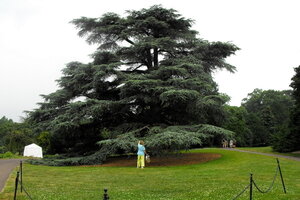 Courtesy of Denise Schreiber
"A society grows great when old men plant trees whose shade they know they shall never sit in." Greek Proverb
Americans have a love affair with trees. I'm not talking about just planting them, I'm talking about how we treasure our trees, especially the old ones that mark that spot in time, that place in history that makes it seem so alive for us.
Historic trees
There are the beautiful beeches with their elephant's foot-like trunk carved with the initials of lovers from long ago. Trees that have stood watch over events in our history include Thomas Jefferson's tulip poplar (Liriodendron tulipifera) outside his bedroom window at Monticello, the 320+ year-old London plane tree (Platanus occidentalis) overlooking Brandywine (Pa.) Battlefield, descendants of Johnny Appleseed trees that live on, the swamp white oak (Quercus bicolor) that witnessed the bloodiest battle of the Civil War at Gettysburg, and the Survivor Tree in Oklahoma City.
The Survivor Tree is an American elm (Ulmus americana), one of our more majestic trees. I visited Oklahoma City a few months after the bombing, stunned by the destruction and yet the tree was still standing: scarred, with branches missing, but pushing out new growth as if it were saying, "I stand here to remember those lost."
Last year I had occasion to visit the memorial area again, and the tree is still going strong, a monument to its strength and ours.
---