It's easy to grow plants from seed
(Read article summary)
Gardeners in Southern California and elsewhere around the country will find that starting flowers and vegetables from seed is simple and offers choices of many different types of plants.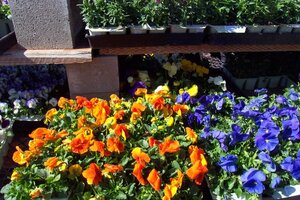 Courtesy of Gerald Burke
Should I go with seeds or started plants in my garden?
It's a question I am asked with regularity by SoCal gardeners. The short answer is started plants are quicker than seed.
Seeds offer more choices
But there's more to it than that. You'll find dozens more varieties of plants, literally, from which to choose if you go the seed route, and often that's a consideration. I just checked a major seed catalog and found some 20 listed varieties of tall marigolds, eight of dwarf marigolds.
Even in the best of nurseries and garden centers, you'll be fortunate to find half that many. Maybe you want tall yellow marigolds and all you can find are gold minis, for instance. If you start seed, you can easily get exactly what you want.
Some gardeners say that they're reluctant to try seed because it's so small, they don't know how deep to plant it, how much water to give a new planting, etc., etc.
Once you' ve tried it, all that reluctance pales, since seed is easy. Today's seeds have have germination rates and tolerate mistakes in planting. That works in your favor.
I once forgot to cover a small row of zinnia seed after planting and was surprised to find that almost every seed, despite not being covered, germinated after about five days. I don't recommend that, but it shows that you can go the seed route with confidence.
How to sow seeds
I use a good planting mix for starting seeds under controlled conditions, make a small trench -- about one-quarter inch deep -- and carefully shake the seed out of the packet, trying to spread it as best I can. (There are some tools made for planting seed, and they work, but you can do it just as well without them if you're careful.)
---