The easiest way to plant potatoes
(Read article summary)
While spring weather is still cold enough for crocus to be blooming, an Iowa gardener plants 100 seed potatoes the easy way. In fall, he'll be able to dig up 60 to 75 pounds of spuds.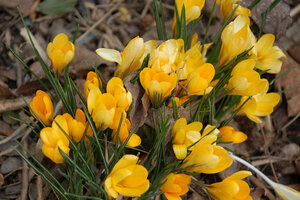 Courtesy of Craig Summers Black
It is cold, cold, cold and rainy this afternoon – far below the normal temps for this time of year.
When I went to town to get the paper this morning, it was 38 degrees F. (3 C), and the thermometer has been falling fairly steadily ever since. So although we are having wind, thunder, and lightning in central Iowa, it could be even worse. Forty-five minutes north of here, they just got five inches of snow. Yuck.
So that's my spring you see there up at the top of the blog, those yellow crocuses. That's the extent of it. The daffs and hellebores are only just starting to show -- although 25 miles east of here, the capital city of Des Moines is all abloom, thanks to the metro's heat island.
But here: Nada. Save that one patch of sunny blooms.
Not much in bloom
Oh, and I almost forgot: one Iris reticulata, those perky purple things. But one? All by its lonesome. Well, that's Iowa for you.
We had some real teasers the past few weeks, days in the upper 70s (24 to 26 C). One even hit 80, if you believe it. And I have to. It keeps me sane.
But still I plant.
The sugar snap and snow peas are all in the ground, as are the all-important potatoes.
One of the more important garden magazines just did a voluminous story on the many ways to plant potatoes. Sounded like a lot of work. And in a hanging basket upside-down? Really? Maybe that works in Australia.
Easy vs. complicated ways to plant potatoes
Anybody remember famed potato planter Ruth Stout?
---