Eight keys to growing great vegetables
(Read article summary)
To successfully grow vegetables in your home garden, follow these eight tips.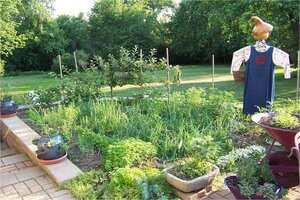 Courtesy of Nina Koziol
What could be better than walking into your garden or onto your balcony or deck to harvest some salad ingredients or a side dish for your dinner tonight? Boost your food production with these basics:
Location: Choose a spot with at least six hours (preferably eight to 10 hours) of full sun per day in an area away from tree and shrub roots. Vegetables and herbs ideally would be near the kitchen door and near a hose. Our vegetable garden is a whopping 150 feet from the house because that's where there's full sun and good soil. Closer to the house (and the kitchen), we grow herbs and leafy greens, which makes the harvest a snap. Vegetables need 1 to 1-1/2 inches of water per week. Buy a rain gauge to monitor water needs.
Soil: When starting a new garden, especially in an urban setting, a soil test gets plants off to a good start. Buy an easy-to-use soil test kit at the local garden center or online or send a soil sample to a laboratory. (In many states, the Extension Service offers low-cost testing.) The soil should have good tilth -- loose and crumbly and rich with organic matter. It should be fertile and well-drained. Improve your soil by adding organic matter -- compost, composted manure, chopped up leaves, weed-free straw -- and work it into the top three to four inches of soil before planting. In pots, use half soil-less potting mix and half compost, which increases fertility and water-holding capacity of the mix.
---