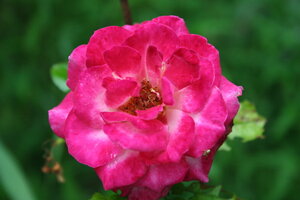 Courtesy of Lois J. de Vries
I can't work with or smell roses, see a box turtle, or smell the combination of wet bricks and damp earth without thinking of my grandmother and her rose garden.
When she was no longer able to tend to the garden herself, she directed my grandfather's activities from an open kitchen window, from which she also called her half-dozen captive turtles to come get their snacks -- and they did!
As many people have discovered, scent is a major element that influences not only our garden memories, but also our current garden experiences. This happens, researchers say, because the capacities for both smell and emotion are rooted in the same system in the brain.
The average human being is able to distinguish approximately 10,000 different odors. But an odor has no personal significance until it becomes connected to something that has meaning to us, according to Brown University neuroscientist Rachel Herz. The olfactory center also interacts directly with the hippocampus, a brain area involved with the formation of new memories. "No other senses have this kind of deep access," Dr. Herz says.
Fragrance can be positive or negative
---