Five great ideas from water garden designers
(Read article summary)
Ideas from professional designers that you can use to create your own water garden or water feature.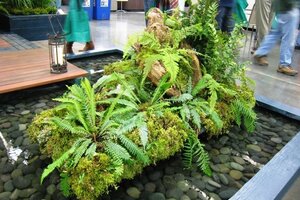 Courtesy of Mary-Kate Mackey
Flower and garden shows pack more ideas per square foot into one space than any other gardening venues I know. It's bound to happen when you bring together all those creative horticultural thinkers.
OK, I realize some ideas are goofy, or impractical, or downright impossible — my biggest gripe is display gardens that group together plants with totally diverse needs, such as dry-tolerating euphorbias planted next to water-loving hydrangeas.
But on the whole, scooping up exciting ideas is what makes these garden shows so alluring. Here are my discoveries about water use at the Portland (Ore.) Yard Garden and Patio Show.
1. Make a floating island – Enliven an already existing shallow pool (or add this construction to your future plans) with the addition of an island that appears to float on the water. The one in the first photo above, designed by Landscape East & West, is mostly shade plants -- ferns and mosses -- tucked around a charming piece of tree stump.
2. Combine water and glass – We've all seen colored glass balls like the ones gathered in the top of the water feature shown in the first photo at left. However, the display by Dennis' 7 Dees Landscaping and Garden Center pushes the glass/water connection up a notch. The rectangle of abstract glass art in the niche above echoes and enhances the spillway's knife-edged waterfall.
3. Repurpose the details – Autumn Leaf Landscaping's clever trough fountain employs three spigots to create maximum splashing sound with minimum overall water usage. [Second photo above; click on the arrow at the right base of the first photo.] Designer Kristine Hanson of Green Leaf Design added the perfect eye-catching accent with red, lacy metal encircling each spigot. Actually, they are Crate and Barrel trivets, repurposed for a great water-feature effect.
---