Six tips for creating a cozy garden hideaway in your yard
(Read article summary)
You'll really enjoy relaxing outdoors when you create a cozy hideaway in your yard. Here are six tips to make your planning become reality.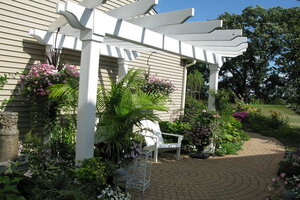 Courtesy of Betty Earl
There's something very appealing about escaping to a charming, quiet spot in your own garden where you can sit down to relax, enjoy a book, a cup of coffee, or the morning paper while surrounded by the beautiful textures, sights, and smells of your own yard.
While you can experience any of these things from a lawn chair plopped down in the middle of your backyard, the experience can be greatly enhanced in the comforting seclusion and tranquility of a cozy garden hideaway.
Whether you create a large, elaborate enclosure, or one that is simple, yet cozy, you will certainly treasure your time spent there. So, since the basic goal of any cozy hideaway is to make it a serene place for relaxation, don't rush the idea. Take the time to think it through and plan accordingly.
Six ideas for creating a garden hideaway
1. Libraries and bookstores have tons of books devoted to the subject of garden design. There are also many gardening magazines that highlight gorgeous private gardens. Studying the pictures in these books and magazines is a great place to start developing ideas for your own garden hideaway.
When something interests you, take notes. In flipping through magazines, keep in mind that one picture is worth a thousand words, so collect pictures that catch your interest, reflect your personality, and allow your sense of fun to come through.
2. Once you've developed a clear idea of the overall look and feel you want your hideaway to have, use it imaginatively in choosing the section of your garden. And despite the apparent contradiction, the smaller the hideaway, the more important good design becomes, for a small space can be taken in almost at a glance, and the attention to detail or its neglect, is immediately obvious.
3. Adding an arbor, trellis, or pergola to your cozy garden space will provide privacy and intimacy, give it structure and shape, add the illusion of space, and turn it into a more secluded hideaway.
4. Choose your plants wisely. Hanging plants, plants that climb, or plants that drape are excellent ways to soften edges and create flowing, natural spaces. The use of containers is also important, because they bring life and color to corners that might otherwise remain bare. And if isolated pots seem to lack impact, try grouping them.
---