Dwarf bearded irises offer gardeners many advantages
(Read article summary)
For Western gardeners, dwarf bearded irises offer a number of advantages, including drought and wind tolerance and deer resistance.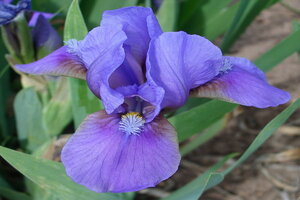 Courtesy of Dennis Gates
A stroll through the blooming fields at Long's Gardens is a traditional Mother's Day treat for anyone in the vicinity of Boulder, Colo.
Still family-owned, this iris farm on the north side of town grows bearded varieties only, because they grow so well in Western climates and tolerate many different types of soils, including our more alkaline ones.
Long's had its 100th birthday a few years back. Catherine Long Gates, granddaughter of J.D. Long, who came to Colorado in search of a drier climate and started the business, runs the now urban iris farm with her husband, Dennis Gates.
I stopped by Long's recently to see if any Arilbred irises were in flower. Their ancestry includes Aril irises from dry regions of the Middle East, which makes them extremely drought-tolerant.
Arilbreds are a favorite of Lauren Springer Ogden, which is where I heard about them, during a talk to launch the second, updated edition of her book, "The Undaunted Garden: Planting for Weather Resistant Beauty," a wonderful guide to ornamental gardening in the West.
Small, multicolored jewels in the garden
---