Community gardening grows in popularity
(Read article summary)
When plots in a community garden are assigned, plenty of people turn up to claim one. Growing vegetables is very popular.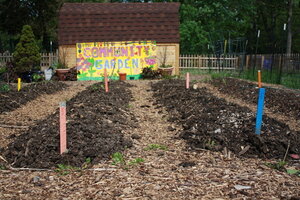 Courtesy of Christopher Weber.
After an anemic spring in the Chicago area — the least sunny on record; hello, climate change? — people are jockeying for position in Chicago's community gardens.
The weather may be cold, but gardening is hotter than ever.
Big demand
On a recent Saturday, would-be gardeners queued at a community garden in hopes of landing a choice plot.
Some gardens parcel out space by the row; others assign each gardener a rectangular plot. As with real estate, some areas are more desirable than others: sunnier, or closer to the water spigot, or less weed-prone.
You can't always afford to be picky, however, because space runs out fast. Most of Chicago's community gardens have long waiting lists.
At the garden in question, Jeremy, a 20-something staffer for the nonprofit organization Growing Power, calmly played the part of St. Peter, deciding who would pass within the sacred garden gate. Growing Power runs this garden on behalf of the Chicago Park District, which owns the land.
Jeremy is broad-shouldered and tall, with dreads that frame his face and dark, unrevealing eyes.
To one lady he offered hope. "Your plot hasn't been built yet," he said, nodding to an expanse of unbroken grass within the picket garden fence. "Once we build it, then you can plant."
Not what she wanted to hear, I'm sure, but far better than being turned away.
"I was hoping I could get a second row," said a woman with a 20-something son. Jeremy considered this entreaty for several ponderous moments before deciding, "We have to see who comes today before we start giving second plots."
---