How to grow (and serve) the perfect July 4 cantaloupe salad
(Read article summary)
A gardener and a chef team up with advice on growing and serving muskmelons, or cantaloupe, including a recipe that can star in your Fourth of July cookout.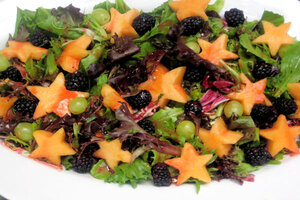 Courtesy of Linda Weiss
Muskmelons -- also called cantaloupes or just lopes here in the South -- are ambrosia on a vine, says Anne the gardener. In fact, there is a muskmelon variety called Ambrosia. It is delicious. Another fairly new taste treat is Athena. It has fast become one of my favorites.
I hope that you have planted some melons, and they are filling up your garden spaces. They are going to be running six to eight feet between the rows. Heavy mulch around the roots and under the vines will conserve moisture and keep weeds down.
How to plant and grow
Melons are hot weather lovers, so plant them after the soil has warmed up in the spring. They will need about 75 to 90 days to mature before the first frost. My article at GardenSmart has more growing information.
You can plant them in "hills," meaning three to four seeds in a circle. I used to think the term "hill" meant to mound the soil and plant the seeds in it.
Not so, according to Dr. Powell Smith, who is a Clemson University Extension agent. But it is perfectly OK if you want to continue to plant them in raised hills. I did it for years with no ill effects to me or my melons.
Melons grow according to our spring and summer cycles. Spring rains keep the melon plants watered as they grow. Then, in late summer, when rains diminish and the melons are large but not yet ripe, let them go dry between watering to increase the sweetness of the melon flesh.
If you covered your vines with row covers to keep disease and destructive insects at bay, do not forget to uncover them as soon as blossoms appear on the plants. Pollinators need to have access to the blooms or your melons will not swell into heavenly fruit.
It is easy to tell when a muskmelon -- aka cantaloupe -- is ripe. A slight tug on the stem causes a ripe melon to fall off the vine.
---