Why I became a rock gardener
(Read article summary)
A new rock gardener succumbs to the appeal of tiny plants.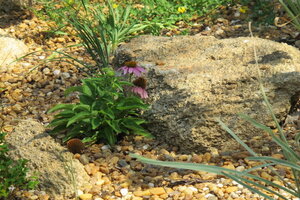 Courtesy of Helen Yoest
As an on-again, off-again, card-carrying but generally uncaring member of the North American Rock Garden Society, also known as NARGS, I've learned that if someone has to ask what NARGS means, it's a sign they are not enlightened.
This is a serious group of gardeners. Not evangelical as are many other types of gardeners, but intense and committed to the tininess of tiny plants, grouped in a bunch of rocks with hopes that their stratifications look natural.
If you think rock gardening isn't for you, you might find it interesting to know who else has succumbed to it. Just to drop a name, I am now rubbing elbows with the likes of Nancy Goodwin of Montrose. Yes, Nancy is also a rock gardener.
It was never my intention to become a rock gardener. I attended the group's meetings because it is widely known that they have the very best programs. They lured me in.
Rock gardening is a calling
When I announced on my Facebook page that I had become a rock gardener, my friend and fellow rock gardener Bobby J. Ward, NARGS executive secretary, wrote in the comment section, "Glad you finally heard the calling!"
This may sound a bit smug on Bobby's part, but it wasn't meant to be. It's just that rock gardeners are snobs.
Bobby is in good company, too. Elizabeth Lawrence wrote in her book, "A Rock Garden in the South": "All rock gardeners are snobs. ... Some snobbery is to be expected, for all are agreed that the cultivation of rock plants is the highest form of the art of gardening."
---