Sustainable landscaping from inspiration through construction
(Read article summary)
Four excellent books explain the ins and outs of sustainable landscaping, from philosophy to practical advice.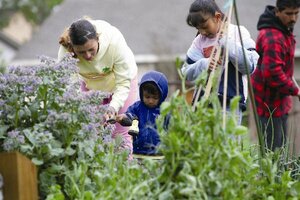 Photo courtesy of Terry Hankins/Petaluma Argus Courier
Sustainability has become such a popular buzzword in landscaping that new books on the topic come out every week. Knowing which ones best suit your needs can be a challenge, but these four recent titles will give you a grounding in the philosophies and how-to involved in landscaping and gardening more sustainably.
Philosophies and debates
My first recommendation is "The New American Landscape: Leading Voices on the Future of Sustainable Landscaping," edited by Thomas Christopher (Timber Press, $34.95). Thirteen powerhouse authors contribute to chapters on balancing natives and exotics in the garden, waterwise landscaping, sustainable edible gardening, green roofs, meadow gardens, and more.

This is some of the most balanced and thorough writing about sustainability issues in the landscape that I've seen. Part manifesto and part how-to, each chapter delves deeply into a topic in sustainable landscaping and shares the philosophies and debates surrounding it, as well as the expert author's best advice for how to move forward in a practical and helpful way.

The new and exciting thinking on these topics made for fascinating reading, and even though I've read at least eight books on sustainable landscaping in the last year, this is the book I returned to most often to find fresh ways of approaching these topics and to re-examine my beliefs.
Urban landscaping projects
---