The pawpaw's stamp of approval
(Read article summary)
A fan of the native fruit makes a postal proposal -- a stamp with the pawpaw on it.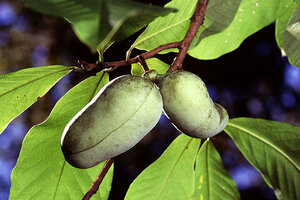 Courtesy of Scott Bauer/USDA ARS
When last we saw John Vukmirovich – the English prof, naturalist, and "professional sandhill crane spotter" – he was a modern-day Johnny Pawpaw Seed, surreptitiously distributing seed of America's forgotten fruit throughout the Chicago area, even on a Nike missile range.
No longer. He heard that maybe some folks with big offices might frown on his actions.
But he hasn't stopped trying to further gain recognition for pawpaws. This week he is proposing to the US Postal Service that they create a stamp with his favorite fruit on it.
The appeal of an unusual tree
"The guidelines for a proposal are very strict," he says. "And they say they look at 10,000 proposals a year. So I wanted my proposal to be evocative, something to appeal to the heart, the mind, even the nose."
He has certainly done that, and here I quote his proposal in full:
"They say that rivers flow down to the sea from the land, but rivers of the imagination flow into the land, and are a part of it, flowing from the Appalachians and the Alleghenies west to the Mississippi, moving in and among the mountains, turning into streams and creeks that glide past and alongside countless ridges and into innumerable hollows, until the waters and the land are inseparable. Alongside those rivers, creeks, and streams, deep in the hollows and on the sides of the ridges, in the shadow of the mountains, grows a tree that like the rivers is a part of the land itself, inseparable: Asimina triloba, the North American pawpaw.
---