Three water garden design ideas from the Getty Center
(Read article summary)
Gardens are an integral part of the Getty Center in Los Angeles. Here are three design ideas from those gardens that can be copied in home water gardens.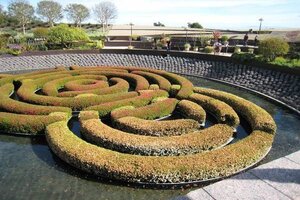 Courtesy of Mary-Kate Mackey
Recently, I gathered three great water design ideas while on a short walk. In Los Angeles I joined a docent-led tour down the hillside in the Central Garden at the Getty Center.
I had seen photos of the famous Bowl Garden [see first photo above], the round pool designed by Robert Irwin, where clipped azaleas appear to float in a complicated pattern on the water. (They're in planter boxes separate from the pool.)
But what I really wanted to experience was the stream that leads down to the Bowl Garden. Here's what I discovered:
Tip No. 1 – Zigzag the pathway
Streams are usually designed with pathways next to the water for close-up enjoyment. But the Getty's steep hillside had to accommodate visitors, some of whom use wheelchairs, so the museum's pathway had to have a gentle incline.
The solution to that design problem is elegant. The water flows straight down the hill in a narrow canal lined with square cobbles of rock. [See second photo above; click on arrow at right base of first photo.] The concrete path zigzags back and forth across the hill, continually crossing the rushing water in the center by a series of bridges.
What a wonderful idea. It's visually exciting to keep turning toward the splashing rill and then walking away from it. The sound of the stream fades away as you leave it and then returns as you reach another crossing.
In a home garden setting, would it be possible to create a path that zigzags back and forth? Especially on steep slopes, a little engineering could be added for both comfort and pleasure.
---