Ornamental oregano is a delightful perennial plant
(Read article summary)
Perfect for rock gardens and regions with well-drained soil and winters on the dry side, ornamental oregano is an attractive flowering perennial that's easy to grow.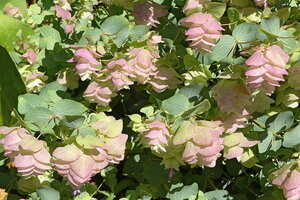 Courtesy of Jane Shellenberger
If you're looking for an unusual, beautiful perennial that's easy to grow, try an ornamental oregano or two.
After first noticing one many years ago in Tim and Laura Spear's pollinator-friendly Forest Edge Gardens north of Colorado Springs, I now have five different cultivars in my garden. They never fail to attract visitors' attention.
Ornamental beauty
Some ornamental oreganos have flowers similar to the culinary varieties, but my favorites have tiny pink or purple florets peeking out of prominent papery bracts that cascade over rocks in the garden and jiggle like chandeliers on branched stems in a vase.
Origanum libanoticum, the Lebanese or hopflower oregano [see second photo above; click on arrow at right base of first photo], has narrow, chartreuse, shrimplike bracts with small, protruding lavender flowers.
Always ahead of the curve, Panayoti Kelaidis (senior curator and director of outreach at the Denver Botanic Gardens) planted it more than 30 years ago at the entrance to the Rock Alpine Garden, where the original specimen still thrives.
Deep rosy-red 'Pilgrim' has an upright growth habit, striking against my starry, silvery blue eryngium. [See first photo at left.] Much of mine has sprawled out, maybe because it only gets five hours of full sun.
Lime-green Origanum acutidens is especially lovely tumbling over red sandstone boulders and hybrid 'Amethyst Falls' is another cascading type with loads of bright pink flowers poking out of chartreuse bracts. The lavender-rose bracts of Origanum X suendermannii are also very showy.
---