Vertical gardens: The good, the bad, the ugly
(Read article summary)
The current trend of planting on walls or fences -- vertical gardening -- is fascinating, but average gardeners often don't understand the maintenance requirements.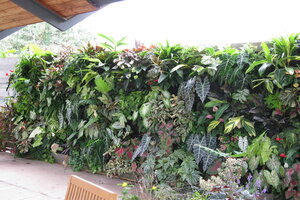 Courtesy of Betty Earl
The gardening trend that is currently sweeping the country – nay, let's say sweeping a good portion of the gardening world, a trend that has many of us totally mesmerized -- is vertical gardening .
At first glance, I was enchanted, intrigued, and fascinated by it. Now, after viewing many more vertical "garden" walls, the best I can admit to …I embrace the concept, but am only half-heartedly drawn to their implementation with open arms as I once was.
Why?
Because many people with a blank back fence or wall are jumping on the bandwagon without understanding the system or the long-term significance of the project.
Living tapestries
You may be familiar with Patrick Blanc's amazing vertical garden system known as Le Mur Vegetal, which allows both plants and architecture to live in harmony with each other.
For those who aren't, Blanc is the French botanist who, for the past decade or so, has been transforming vertical urban outside walls, mostly in Europe and Australia, into intricate living tapestries that include hundreds of species of plants of a complexity and scale never before realized.
Probably best known for his dramatic, yet gorgeous, living wall on the Musee du Quai Branly in France, Blanc devised an ingenious three-part system, consisting of a PVC layer, felt, and metal frame, which replicates the habitat of plant communities that thrive on wet vertical rock surfaces in nature the world over.
---