Daikon radishes in the garden and in the kitchen
(Read article summary)
How to grow and cook with daikon radishes.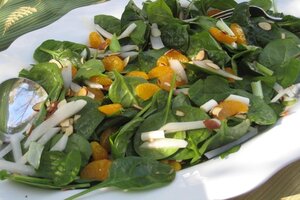 Courtesy of Linda Weiss
Dad planted Icicle radishes in his garden when I was growing up, says Anne Moore, the gardener. I thought that these long, white, mild radishes were good to eat, even at my young, snooty age.
Nowadays, you will most likely find them listed as daikon radish. These radishes are also known as winter, Japanese, Chinese, Oriental, and many other names. They are long, white, cylindrical, and mild.
After I grew up, I pretty much forgot about white radishes. Then, a few years ago, I came across a packet of seeds for daikon radish when I was looking for fall and winter vegetables. I planted them somewhat late and harvested a few small radishes before the first frosts.
The ground does not freeze in the midlands of South Carolina, where I garden, so I was able to leave them in the ground until springtime. That's when I pulled out long, substantial, tender, mild, delicious white radishes.
Growing daikons in cold climates
If it does freeze where you garden, then you should try planting these delicious vegetables in July or August. They take about two months to mature. Check with your local University Extension Service for the best planting time for a fall vegetable crop in your area.
Daikon radishes are very slow to bolt (go to seed) in the hot, long days of summer. They will withstand heavy frosts if planted late in the season, although they do need at least 40 degree F. soil to germinate. You can also extend your growing season in cold areas by using frost covers on the garden beds, or by planting them in cold frames or greenhouses.
Plant the seeds a half to three-quarters of an inch deep into moist, deeply dug garden soil. Deep containers with wide tops will also make a good growing bed for daikon radishes, as they can grow to 18 inches long and 3 inches wide. Full sun is best in winter growing areas. If you are planting in summer, some shade would be of benefit. As soon as the seedlings have a second set of leaves, thin them to about two to four inches apart.
---