Monkshood: Beautiful, blue, and long-blooming
(Read article summary)
Monkshood, or Aconitum, is a perennial with two big advantages for gardeners: blue flowers and a very long blooming time that stretches from summer into winter.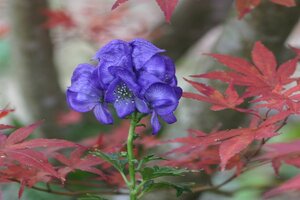 Courtesy of Gene Bush
I have monkshood in my garden that stretch back more than 20 years to when I began gardening. Some I have lost the names of over the years, but, of course, that doesn't prevent them from blooming any less. I especially enjoy these perennials for the time of the year they bloom and for their numerous shades of blue flowers.
This plant has a long history. It has been used in medicinal gardens going back to medieval times. The Romans used Aconitum to poison wells, in order to eradicate wolves (which gave rise to one of the plant's common names, wolfsbane). The plant has also graced English cottage garden for centuries.
In Indiana, I normally I have Aconitum blooming in my garden beginning in late June, and different species continue the bloom to mid-December. This year all species and cultivars have waited until mid-September to begin blooming. They will remain in bloom well into December.
I have seen heavy freezes and snow on the blooms, and watched them go on to produce seed. They put on quite a show for this time of the year with the tall, stately, spires topped with blue "hoodies."
Oh, those blues
To name a few, monkshood flowers come in indigo blue, icy blue, lavender blue, and deepest purple-blue blooms in clusters at the top of stems. You may also choose from cultivars with pure white, pink, and bi-color blooms. There's even a yellow-blooming species.
Want a great-looking autumn garden? Just select a bloom period and your favorite shade of blue to go with all the gold, red, and brown of fall foliage.
---