The benefits of garden eye candy
(Read article summary)
Observing garden 'eye candy' teaches us about design elements that make a difference in our own landscape.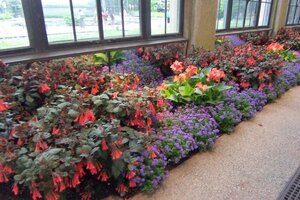 Courtesy of Donna Williamson
It's hard for me to believe I am saying this, but I want to make a case for "garden eye-candy." Those glossy, beautiful books, usually British, that show us photo after photo of gorgeous garden scenes are generally referred to as "garden porn" or "eye candy." But for most of us in the US -- such as the state in which I live, Virginia -- most of the plants in these books' beautiful photos don't bloom at the same time because of different climates.
While I eagerly tell the participants in my classes that it's fun to look at those pictures and borrow ideas, I think there is even a bigger benefit.
Learn to appreciate the best
When we go to a museum, we don't look at mediocre Impressionist art. We look at great art. We look at the capture of exquisite light or the waves of grain in a Van Gogh or a ballerina preparing to dance, and we are enchanted. This is an artist at the top of his or her game.
Some artists appeal to me more than others. Cezanne may be your favorite, while a friend's may be Manet, and mine may be Degas. Taste and choice don't matter as much as the education of our eyes and minds in what first-rate work looks like.
That same educated eye can be brought to the landscape.
What you learn
By reading and looking at the enormous variety of books with stunning and delicious photos, we can teach our eyes (and mind) about first-class gardens. By visiting great gardens (and the not-so-great) we can learn about how to use the dimensions of time and space with more flair.
---