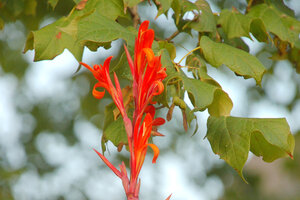 Courtesy of Craig Summers Black
You may be familiar with the whole canna-banana style of tropical gardening in areas where the climate is decidedly nontropical. It's zonal denial with an emphasis on big ol' honkin' leaves.
But did you know there actually is a banana canna? Yup, Canna musafolia (horticultural Lain for banana is "musa"). This bold and architectural foliage plant readily grows to 6 feet tall and its long, red-tinged leaves can easily be mistaken for those of a banana tree.
It is, however, much easier to overwinter and is hardier than even Musa basjoo, the banana tree famed for being hardy in most of Zone 5.
Give it shelter and shade
But even in singing its praises, plant catalogs stress over and over that the banana canna "rarely flowers." Well, after growing this honker for five or six years now, I am here to tell you otherwise. This dang-fool "foliage plant" flowered almost all summer long this year. Which is a heck of a sight longer than just about anything else in my Iowa garden.
And the flower is a pretty radiant color, too, kind of a fiery orange-red (and overhead), which really lights up the shady and sheltered areas where I plant it.
And I say "areas" plural because the tubers reproduce readily and can be divided to be planted elsewhere willy-nilly. That also makes them great pass-along plants, so you can give extras to friends and neighbors.
---