Water gardening: When water flows backward
(Read article summary)
Plan ahead for a water garden or water feature that feels right in your garden. For instance, which way should the water flow?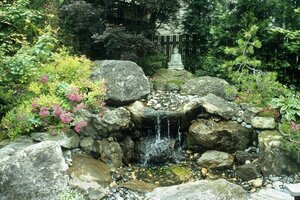 Courtesy of Mary-Kate Mackey
Spring is an excellent time for water garden planning, but it was last fall when I was inspired to consider water in a new way. While attending a Garden Writers Association meeting near Seattle, I had a chance to examine the kind of subtle thinking that should precede construction of any water garden or water feature.
Our group was touring the grounds around Willows Lodge in Woodinville, Wash., with the knowledgeable herbalist and designer, Eaglesong — yes, it's just one name. Her title in the hotel operations is "director of natural beauty."
She has earned the sobriquet. The tour group got a glimpse into what it takes to sustainably manage the naturalized landscape tucked around the buildings and the more formal kitchen gardens that contribute to the cuisine.
How goes the flow?
We turned into an open courtyard, surrounded on three sides by the lodge. The courtyard held a water feature. A little stream gurgled and meandered through rocks and Asian art, and poured into a small pond facing the hotel [first photo at left].
There, Eaglesong [second photo at left; click on arrow at bottom right of first photo to go to the next one] stumped us with a design question. "What's wrong with this water?" she asked.
---