A tradition of gardening runs in the family
(Read article summary)
Being a locavore isn't new. This writer's family has been gardening and eating local for generations. Plus, enjoy a recipe for pickled beets.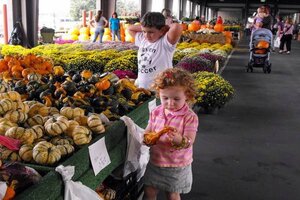 Courtesy of Denise Schreiber
Today the hot topics in food and gardening are CSAs (community-supported agriculture), farmers' markets, slow food, the locavore movement, and organic anything.
I have to laugh because long before all of these things were your basic home gardeners. I come from a line of gardeners on both sides of the family -- my Italian grandparents who immigrated to this country and my German-Hungarian grandparents who made it here as well.
Gardens were necessities
My Italian grandfather, Rosario Scalise, planted a large garden in a lot next to the house where they lived with their eight children, one son-in-law, one grandchild, and Rosario's father and mother. While part it may have been for pleasure, it really was necessary in order to feed his family.
He also built a bread oven, and people in the Italian neighborhood would bring their dough for baking and pay with what little money they had or traded bread for vegetables. A garden was important, for families, especially during the Depression, in order to just survive.
The German-Hungarian grandparents, Johann and Johanna, settled in a small community called Swissvale, just outside the city limits of Pittsburgh. There they built a house large enough for them, their four children and Johanna's mother and brother. Because they had the only house on the block, they were able to grow a large amount of vegetables on the unoccupied lots for several years.
To help bring money in, my dad, Ernie, and his brother Charlie were sent out every day during harvest season to sell vegetables throughout the neighborhood. Everything they sold was organic since manure was about the only fertilizer and soil amendment available to them.
Not far away was old man Horrock's farm. He was always called that even though he was a young man then. He just passed away a few years ago at the age of 103!
---