A look at the 2012 All-America winners
(Read article summary)
What does it mean when a plant wins an All-America Selections award, and how will perform in your garden?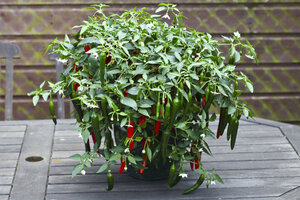 Courtesy of All-America Selections
Many gardeners aren't familiar with the All-America Selections organization (AAS) that tests new varieties of flowers, herbs, and vegetables every year, in several trial grounds throughout the US and Canada. It's been going on since way back in 1932, and many of the winners have come to be loved regulars in the home garden.
But I've found, in talking to gardeners about All-America Selections or All-America winners, that they don't bring up oohs and aahs, but rather a question, "What do they do?"
That's too bad, because the All-America trials and winners are important to gardeners, just as they are to seed companies and to plant breeders. For those of us who garden, it lets us know what reputable judges think of new varieties each year, it publicizes them, and causes the bedding-plant growers to produce them for all of us to plant and evaluate for ourselves.
Although I'm a fan of AAS, I have to say that not all the winners, in my view, have been great, but some of them have been and others are quite good. I usually try them each year, just to see for myself what they'll do. Sometimes I'm impressed, occasionally not.
For those of us who garden in southern California, there's another catch — some winners may not be great in our various climates.(This can be true in several areas of the country, especially those that are especially hot or cold, or where it rains sparingly or quite a lot.)
The 2012 AAS ornamental winners
This year there are four winners, two flowers and two vegetables. The two flowers are Salvia 'Summer Jewel Pink' and ornamental pepper Black Olive. It may be stretching a little to consider a pepper plant as a flower, but that's how they have classified it.
The salvia is really a winner and is similar to Salvia 'Summer Jewel Red,' an earlier winner. Summer Jewel Pink is compact, with lots of blooms, a real attraction for hummingbirds, and will do well in almost every SoCal climate -- beach, inland and mountains, and the desert.
---