Basil spices up summer gardens and recipes
(Read article summary)
Basil is the most popular herb in the U.S. The reason? It's versatile, flavorful, and ideal for summer gardens.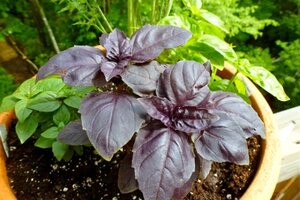 Courtesy of Lynn Hunt
Few summer experiences are as memorable as strolling through an herb garden, brushing past Ocimum basilicum, and inhaling the intoxicating scents of anise, clove, and cinnamon in the warm breeze.
Ah, the sweet smell of basil! If aroma were its only attribute, basil would still be a welcome addition to the garden. But, of course, fragrance is just the beginning.
Starting now, gardeners in most areas of the country can count on basils to liven up a variety of summer dishes, provide the essential ingredient for mouth-watering pesto, and add touches of color throughout the landscape.
Small wonder that basil, called the herbe royale by the French, has become the king of the herb garden in America.
An herb rooted in history
Basil is a member of the mint family and most likely originated in tropical Asia. The first written history of the herb goes back 4,000 years to when it was grown in Egypt.
While many ancient Greeks thought the fragrant leaves to be cursed, Romans associated basil with love and devotion. It was believed if a man accepted a sprig of basil from a woman, he would love her forever. A pot of basil seen on a balcony signaled a suitor that the lady welcomed his attentions.
With the diverse legends surrounding basil, the herb was traded across the globe and eventually arrived in America. Sweet basil is one of the herbs mentioned in Colonial garden records.
Basil basics
Although they grow as perennials in their native land, basils should be treated as annuals in most areas of the United States. They are not hardy below 32 degrees F. (0 C) and will usually turn black after the first freeze.
---