Great garden flowers: A gaillardia with plenty of moxie
(Read article summary)
Gaillardia, or blanket flower, is an easy-to-grow perennial for hot, sunny spots. Here's a new cultivar, Commotion Moxie, that has much to offer flower gardeners.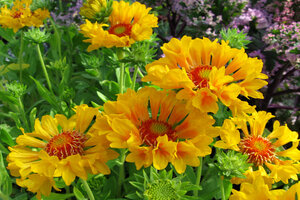 Courtesy of Skagit Gardens
Some readers will think it's silly for me to say I fell in love with a flower simply by looking at its photo. But it's not all that unusual among "plant nuts," those of us who love to grow many different kinds of annuals, perennials, trees, shrubs, herbs, vegetables -- well, a little of everything.
I'll have to admit that sometimes, the plant in the photo lives up to your hopes -- and sometimes it doesn't. But last summer I really hit the jackpot.
Skagit Gardens in Washington State, a wholesale grower of new annuals and perennials, sent me plants of Gaillardia x grandiflora Commotion® 'Moxie'. (That's a long name for a particular variety of an easy-to-grow perennial often called blanket flower.)
The plants weren't in bloom; just small, sturdy seedlings. But they came with a color photo of peak bloom -- and that's all I needed. Now, the typical gaillardia (click here to see a photo if you're not familiar with it) is a fine perennial for sunny spots and hot weather. It blooms a long time, doesn't need a great deal of water, and mixes well with other flowers.
What made the difference
But for all those attributes, gaillardia is a plant I've never gotten really excited about. Sorta ho-hum in my view.
What attracted me to this one? Well, the flowers are clear yellow with an orange center, instead of the usual red and yellow, and I'm a big fan of yellow blossoms in sunny gardens.
What you really notice, though, is that the flowers have a bit of an unusual appearance. The ends of the petals are fluted (sometimes called "spooned," or quilled). Look at the photo above and you'll see what that means.
---