Winter soil care
(Read article summary)
Gardeners who live in California and other mild climates can do their gardens a favor by getting a start now, in early winter, on improving and caring for the soil. That ensures future success.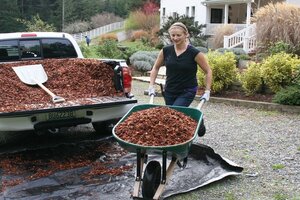 Courtesy of Genevieve Schmidt
For those of us in mild climate (I'm in Northern California), garden care doesn't come to a stop in December. In fact, this is one of the busiest times of the year, because the work we do now sets the stage for a good growing season come spring.
While we're used to poring over bulb catalogs, planting shrubs, and gearing up for winter pruning, we often neglect the most important part of our gardens -- our soil. Yet there are a number of things we can do for our soil right now to improve how well our plants grow in the coming year.
Add dolomitic lime to rhododendrons
While it may seem counter-intuitive to give dolomitic lime to an acid-loving shrub, studies have shown that it improves health and vigor dramatically. According to Don Wallace of Singing Tree Gardens rhododendron nursery, rhododendron leaves are primarily composed of magnesium, and dolomitic lime is calcium and magnesium carbonate.
Sprinkling this inexpensive amendment around the drip line of your rhododendron each fall or winter turns the leaves a deeper, richer shade of green, and the minor effect on soil pH isn't usually a problem in the naturally acidic gardens west of the Cascades. On each rhododendron, use a half cup per foot of height, once a year. Camellias and azaleas also benefit from this treatment.
Top dress your lawn with compost
Each year, I try to top dress my lawn with compost. It helps the soil absorb rainfall and irrigation water, adds nutrients that plants need, and encourages earthworms to aerate the soil. It has the added side effect of discouraging weeds, because when lawn grass is healthy, it is better able to out-compete weeds and grow thick and lush.
Top dressing is simple: First mow your lawn. Then rake one-half to one inch of compost over the entirety of your lawn (if your lawn is large, focus on the areas closest to your home). You can use bagged compost on small lawns, or get bulk compost delivered from your local nursery or municipality.
Add soil conditioner
---