Green in the winter garden
(Read article summary)
Tired of your winter garden being all brown? Here are four plants that will green it up.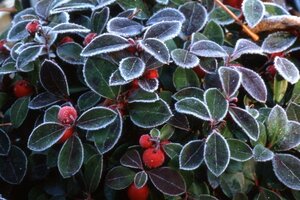 Courtesy of Gene Bush
Mr. Kermit the Frog said it best. "It isn't easy being green." I would add that it isn't easy being green in a Midwestern winter garden. Gardening in a woodland or shade garden further refines the various hues of green available.
Because of prevailing weather patterns during winter, Mother Nature took the easy road out and simply does not attempt to keep many large-leaf plants green during winter in our area. That can make maintaining a shade garden of interest during winter a little difficult. Such a garden tends to be a bit on the brown and gloomy side. However, over the years, I have selected enough native and non-native plants that do stay green to make it worth a walk in my winter gardens.
Native selections
The following are favorite groundcovers that stay green in my area during winter:
Wintergreen (Gaultheria procumbens, hardy to Zone 4) is a dwarf creeping shrub without equal. It's only 4 inches or so in height with a continual creeping habit. It has leather-like leaves of heavy substance that are just as green and polished in January as they are in July. The deep, lustrous green leaves have companions of scarlet red berries in winter. Add a touch of frost or light snow and you have a Currier and Ives postcard in your garden [see photo above].
And, you can chew the leaves and berries for fresh breath.
---