Fall-blooming anemones
(Read article summary)
The spellbinding beauty of Japanese anemones, or windflowers, in fall may blow you away!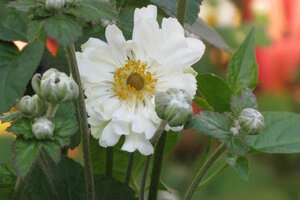 Courtesy of Betty Earl
I confess! In most instances, good cultural advice is the primary goal of these blog posts. But sometimes, just sometimes, an opportunity presents itself that I just cannot ignore. So I go against my own advice.
Yesterday, as late as it is in the growing and planting season here in northern Illinois, I came across a few plants in gallon containers at a house sale, each marked at a measly $1 a pot.
Yes, a buck apiece!
Fall-blooming windflowers, Anemone 'Whirlwind' -- 10 pots for a mere 10 bucks. How could I walk away? Even though this is definitely the wrong time of the year to plant these fall bloomers (anemones are best divided or transplanted in the spring), this was a chance I had to take.
Why?
Because these prolific bloomers are perfect for illuminating a garden's shaded nooks and crannies. 'Whirlwind', a compact plant with large, white flowers that start blooming in late August and continue the show into October, is nothing short of a true eye-catching conversation plant in the autumn garden.
And the plants that I found on sale, though dormant in their pots, upon closer inspection showed healthy looking roots.
Definitely worth the $10 risk, I thought.
A serious garden treasure
These particular windflowers, also known as Japanese anemones, are prolific bloomers. Standing about 3 feet tall, they are the perfect backdrops for shorter asters, mums, and other garden plants.
---