Christmas decorating with snowballs from the garden
(Read article summary)
Fat flowers from mophead hydrangeas dry on the bush and are easy to transform into natural Christmas decorations for tree, mantle, or table.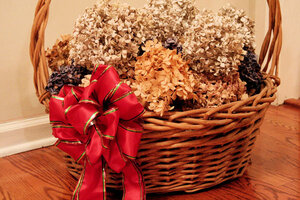 Courtesy of Anne K. Moore
If you live in the South, I'm predicting you won't be seeing any snowballs for Christmas. Not even the so-called snowball bush, Viburnum macrocephalum, holds onto its spring flowers this late in the season.
Still, you can gather mophead hydrangea blossoms (Hydrangea macrophylla) and turn them into faux snowballs to decorate your tree, mantle, or table. Even those of you who have the real, cold drifts outside your window can decorate for the holidays with non-melting snowballs.
If you haven't cut your hydrangea blossoms off the bush yet, you can do so now if they are still shapely. Just make sure you cut them off with a short stem above the first set of buds on the bush. You don't want to cut off next year's bloom buds, and besides, you don't need much of a stem on a snowball.
Even if the blooms are dark brown, or any shade of tan in between, you can paint them white.
Your snowballs don't even have to be white. Maybe your décor lends itself more to gold or silver. Maybe this year you want to have a touch of aqua on your tree. If you are a traditionalist, red will be your choice. There are sprays for that. Want your snowballs to sparkle and glisten, like the real snow in winter sunshine? There are glitter sprays for that, too.
Spray paint just for flowers
My friend Gigi Huckabee clued me in to craft spray paint made especially for flowers. Be sure to purchase this specialty quick-drying paint, available at craft stores, to gild your hydrangea blossoms gold, silver, or any number of colors. If you use regular spray paint, they might still be drying come Christmas morn.
---