Traffic stoppers
An increasing number of cities are temporarily closing streets to cars and opening them to pedestrians and cyclists. It fosters a greater sense of community.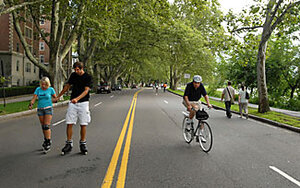 Mary Knox Merrill – Staff
They danced the tango in Portland, Ore., they're doing the samba in New York, and by the end of this month, they'll be dancing in the streets of San Francisco. It's urban planning with a Latin twist, a simple idea imported from South America for transforming the cityscape. Temporary street closures, or are sweeping across the US, as cities take a new look at alternative uses for their streets.
It all started in Bogota, Colombia, about 30 years ago. The – which means "cycle way," or bike path, in Spanish – was designed as a relatively inexpensive way to promote walking and bicycling, and to encourage the mingling of people from all backgrounds in the city's streets.
It worked. Every Sunday Bogota draws nearly one-fourth of its population of 7 million out to walk and cycle 81 miles of car-free streets.
In the early years of the event, residents from the poorer sections of town, many of them of Indian descent, and those from more affluent neighborhoods, of European descent, would halt at one another's boundaries. After a while, though, those invisible lines began to melt, and now people from all over the city mingle freely.
Gil Penalosa supervised Bogota's when he was the city's parks and recreation commissioner from 1995-97. He expanded the program from eight to 70 miles of closed streets and now promotes all over the world from his Toronto-based nonprofit, Walk & Bike For Life. Mr. Penalosa likes to quote Central Park designer Frederick Law Olmsted on the positive benefits of public spaces. Penalosa notes that Bogota's "is one of the few places where the owners of large corporations share activities out on the streets with their own employees."
---