Tina Fey thanks Sarah Palin for top comedy award
Tina Fey is the youngest (and the third woman) to win of the Mark Twain Prize for American Humor.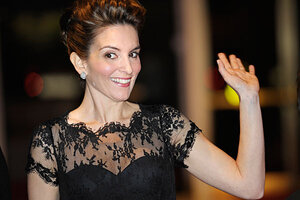 Cliff Owen/AP
Mark Twain paid a surprise visit to the Kennedy Center on Tuesday night to honor Tina Fey with the nation's top humor prize that bears his name.
A mustached Alec Baldwin playing Twain said he thought he would be remembered for being a tender lover and was surprised to learn the prize honors top comics.
"Tina, well that's a funny name for a man," he said, shocked to hear it was a woman who had won because "their brains aren't shaped right."
At 40, Fey is the youngest to be honored with the award that was created in 1998. She's also only the third woman to receive it after Lily Tomlin and Whoopi Goldberg.
A hundred years after the author's death, the woman famous for her Emmy Award-winning impression of Sarah Palin on "Saturday Night Live," accepted the Mark Twain Prize for American Humor – even though she feels her style is "so typically Austrian."
She thanked Palin for her success and said she has it on good authority that Sen. John McCain has a picture of Fey in his office and had been getting ideas long before he picked the former Alaska governor as his running mate.
---