Pirates and 26 other sequels this year: Are Hollywood execs ruining movies?
By one count, Americans will be served a record 27 movie sequels this year: Pirates of the Caribbean, Spy Kids, Cars 2, The Hangover Part II, Happy Feet 2, Kung Fu Panda 2, etc., etc. Have Hollywood moguls gone overboard on sequels?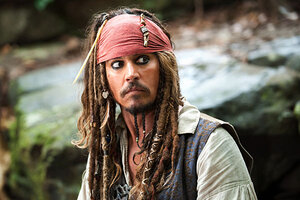 Disney, Peter Mountain/AP
Newsweek/DailyBeast
No movie executive has ever been fired for greenlighting a sequel. Once a brand has been established in the marketplace, it makes sound business sense to repeat the formula. When Procter & Gamble discovered that Ivory soap would float, do you think they came out two years later with a soap named Buoyant?
Movie critics despair of sequels as betraying a lack of imagination and originality. There is truth in that. But they address a hunger among fans of popular movies, who currently are waging an Internet war against Paramount for deciding not to make a sequel to 2004's Anchorman. Will Ferrell, who starred in the original, has helpfully called the executives who made that decision "idiots," and told the movie's fans, "You really have to assert some sort of email hate campaign to Paramount Pictures. They told us, 'We've run the numbers and it's not a good fit.' "
They've run the numbers? This is more evidence, not really needed, that a majority of modern big-studio releases are marketing decisions yoked however reluctantly to creative ideas somewhere farther down the food chain. The majors in general make good films either (1) for Oscar season or (2) purely by accident. Weekend releases between May and September might better be covered by marketing specialists than film critics.
---