Davy Jones remembered as 'The Monkees' teenage heartthrob
Davy Jones, the lead singer on the 1960s television band 'The Monkees,' passed away on Wednesday at his home in Florida.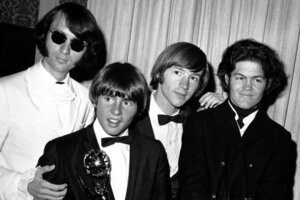 AP/File
Davy Jones, a former actor turned singer who helped propel the TV rock band The Monkees to the top of the pop charts and into rock 'n' roll history, died Wednesday in Florida.
Jones, lead singer of the 1960s group that was assembled as an American version of the Beatles, died in Indiantown where he lived, his publicist Helen Kensick confirmed.
Jones was a former racehorse jockey-turned-actor who soared to fame in 1965 when he joined The Monkees and they embarked on an adventure that included a wildly popular U.S. television show. Jones sang lead vocals on songs like "I Wanna Be Free" and "Daydream Believer."
The band was assembled as an American version of the Beatles, with its personnel designed to be the instant stars of an American TV series seeking to evoke the Beatles, then already famous for their music and such films as "A Hard Day's Night and "Help!"
Auditions for The Monkees were held in the fall of 1965, attracting some 500 applicants. Jones — who was born Dec. 30, 1945, in Manchester, England — had stylishly long hair and a British accent that helped with his selection. He would go on to achieve heartthrob status in the United States.
Nonetheless, musical ability wasn't paramount in the casting decisions. While Mike Nesmith and Peter Tork had some musical experience, Mickey Dolenz had been a child actor, as had Jones along with being a jockey in his native England.
---