Cocaine a factor in Whitney Houston drowning, says LA coroner
Whitney Houston drowned but heart disease and chronic cocaine use were contributing factors, according to the Los Angeles Coroner's Office. The exact amount of cocaine in Whitney Houston's body will be revealed in two weeks.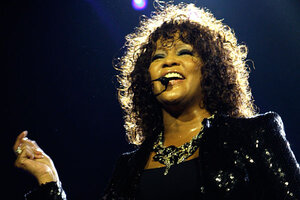 (AP Photo/Joel Ryan, file)
Drugs took many things from Whitney Houston — her pristine voice, clean image and her career — and coroner's officials revealed Thursday that cocaine also played a role in the Grammy winner's death in the bathtub of a luxury hotel nearly six weeks ago.
Houston drowned accidentally at the Beverly Hilton Hotel on Feb. 11, and autopsy results revealed heart disease and her recent and chronic cocaine use were contributing factors.
The results ended weeks of speculation about what killed the singer-actress at age 48 on the eve of the Grammy Awards and a planned comeback. Instead, Houston now joins the long list of entertainers who have died early with drugs at least partly to blame.
IN PICTURES: Remembering Whitney Houston
Coroner's officials did not reveal how much cocaine was found in Houston's system, but said there were signs of recent and chronic use. It was unclear whether she suffered a heart attack before drowning, Assistant Chief Coroner Ed Winter said.
"We are saddened to learn of the toxicology results, although we are glad to now have closure," Patricia Houston, the singer's sister-in-law and manager, said in a statement.
Houston's death the night before the Grammys altered the awards ceremony and brought back immediate memories of the singer in her better days, belting out hits and starring in the feature films such as "The Bodyguard" and "Waiting to Exhale." Years later, Houston's drug use had robbed her of her ability to hit high notes and left her once clean image tarnished.
---