Jennifer Lopez: Leaving 'American Idol' or stalling for more money?
Jennifer Lopez has not signed on for a third season on American Idol. Her children, a world concert tour, are cited as why she might leave. Is Jennifer Lopez too busy or negotiating for more than $20 million a year.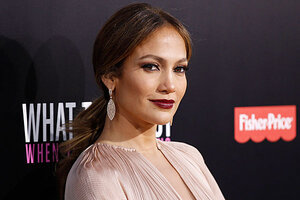 (AP Photo/Danny Moloshok)
The search for "The X Factor's" new judges ended earlier this week, but the search for a new "American Idol" judge may be just beginning, if there's any truth to rumors that second-year judge Jennifer Lopez is looking to leave the show.
Lopez's one-year contract for $20 million is up after this season and she has not yet signed for a third season.
The singer is touring with Enrique Iglesias in the US and Latin America this summer and there are reports of a world tour after that. She also reportedly wants to spend more time with her children.
RECOMMENDED: How well do you know American Idol? Take the quiz
This could just be part of a negotiating tactic, of course. While it's preferable for the network to have next season's contracts squared away before the upfront presentation (which was Monday for Fox), Lopez didn't re-sign with "Idol" last year until August. And though network execs reportedly wanted her for a multi-year contract, like that of her fellow judge Steven Tyler, she only signed for one year and got a hefty pay bump (from $12 million to $20 million).
---