New Jersey spruce survives Sandy, lights up Rockefeller Center
An 80-foot tall Norway spruce was decked out with 30,000 lights in New York City's Rockefeller Center. The Christmas tree-lighting ceremony goes back to 1933.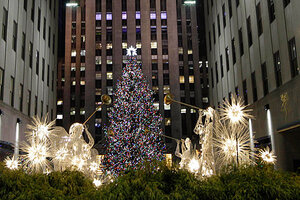 (AP Photo/Kathy Willens)
An 80-foot Norway spruce that made it through Superstorm Sandy was transformed into a beacon of shimmering glory Wednesday when New York City Mayor Michael Bloomberg and others turned its lights on at Rockefeller Center.
Thousands of onlookers crowded behind barricades on the streets that surrounded the center during the traditional tree-lighting ceremony for the Christmas holiday season. A video screen projected an image of the tree for those who did not have a direct line of sight.
"It makes me want to sing and dance," said Zuri Young, who came several hours early with her boyfriend to watch the lighting for the first time.
RECOMMENDED: How much do you know about Christmas traditions? Take the quiz
"I've heard a lot about it. I was kind of sick of staying home and watching it on television," the 19-year-old nursing student from Queens said.
Illuminated by more than 30,000 lights, the tree from the Mount Olive, N.J., home of Joe Balku was topped by a Swarovski star. The 10-ton tree had been at the homestead for years, measuring about 22-feet tall in 1973 when Balku bought the house. Wednesday, its girth reached about 50 feet in diameter.
---