Golden Globes: 'Argo' surprises, and so does the Jodie Foster speech
'Argo' won best motion picture at the Golden Globes, but wasn't even nominated for an Oscar. Jodie Foster gave an unusual speech that indicated she was gay and leaving Hollywood. But later, Jody Foster backtracked.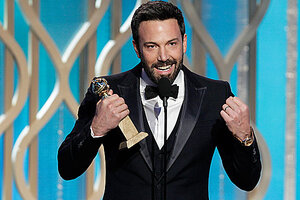 (AP Photo/NBC, Paul Drinkwater)
Ben Affleck got some vindication and Jodie Foster made a revelation at the Golden Globe Awards.
Affleck's "Argo" earned him best motion picture drama and director honors at Sunday night's ceremony. The awards came just a few days after Affleck was surprisingly omitted from the best-director category at the Academy Award nominations. Affleck also stars in the real-life drama as the CIA operative who orchestrated a daring rescue of six American embassy employees during the 1979 Iranian hostage crisis.
These wins seem to shake up the Oscar race, in which Steven Spielberg's stately, historical epic "Lincoln" was looking like a juggernaut. Despite seven Golden Globe nominations, "Lincoln" earned just one award: best actor for Daniel Day-Lewis' intense, richly detailed portrayal of Abraham Lincoln as he fought for passage of the 13th Amendment, abolishing slavery. Spielberg's film heads into the Feb. 24 Academy Awards with a leading 12 nominations.
---