Super Bowl 2013: Is 'flag football' ahead for the NFL?
The NFL's continuing crackdown on illegal hits has left players wondering what constitutes legal play and what will have them paying steep fines.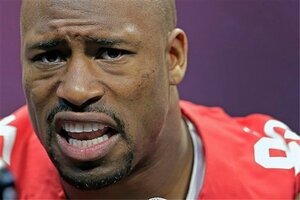 Charlie Riedel / AP
Making the game safer is making NFL players unsure what's a legal hit.
Players on both Super Bowl teams say they are confused about which hits are considered clean and which ones could lead to a fine. And it's not just the guys on defense who are wondering about the future of pro football.
"I think the rules will change a lot," San Francisco 49ers tight end Vernon Davis said Tuesday. "There's already no helmet to helmet. Might be flag football, maybe."
Baltimore Ravens safety Bernard Pollard, one of the league's hardest hitters, warned against trying to take collisions out of the game, as long as they are clean.
"You can't play this game and not expect it to be physical," said Pollard, who was fined $15,250 for a hit on Patriots receiver Wes Welker in the AFC championship game that Pollard believes was within the rules. "There will be injuries in football. There's a car crash on every play."
His 49ers counterpart, All-Pro Dashon Goldson, says defenders keep this in mind when they take the field:
---