'Ender's Game' author compares Obama to Hitler: What can Summit do?
'Ender's Game' author Orson Scott Card wrote a blog post in May saying that President Obama 'could become lifetime dictator' and comparing the president to Putin, Hitler, and George Wallace.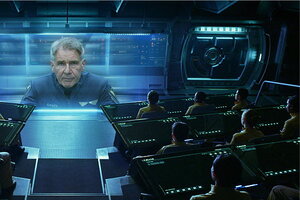 Richard Foreman Jr./SMPSP/Summit Entertainment/AP
Orson Scott Card, author of "Ender's Game" and professional provocateur, has stirred up another controversy – this time comparing President Barack Obama to Adolf Hitler, Roman emperors, Iranian dictators, and other despots.
After writing that Obama is feckless and unwilling to stand up to Muslim dictators hellbent on harming America, he proceeds to call the 44th President "a dictator" who "acts as if the Constitution were just for show."
"Like Augustus Casear, Napoleon Bonaparte, Adolph Hitler, and Vladimir Putin, Barack Obama could become lifetime dictator without any serious internal opposition," Card wrote.
Card adds that Obama is "funding the Christian-killing Muslim Brotherhood in Egypt" while also comparing the nation's first black president to George Wallace, Alabama's former governor and an avowed segregationist.
While Card wrote this rambling and bellicose post in May, the media picked up on it Thursday. Card already provoked the ire of millions with his public opposition to gay marriage, prompting distributor Summit Entertainment to issue a statement in support of gay couples everywhere and planning to make the "Ender's Game" film premiere into an LGBT benefit.
---