In Paul Thomas Anderson's epic, oil is thicker than 'Blood'
'There Will Be Blood,' a story about the rise and fall of a robber baron, isn't the year's best film. But it's certainly the strangest – and compelling, at that.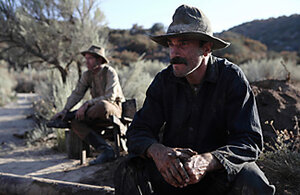 francis duhamel/paramount pictures/AP
Sprawling yet cramped, "There Will Be Blood" may not be the best movie of the year, but it's certainly the strangest. It evokes passing comparisons to everything from "Giant" to "Citizen Kane" but it's impossible to pigeonhole.
Daniel Day-Lewis, in one of those toweringly eccentric performances of his – think of Bill the Butcher in "The Gangs of New York" – plays Daniel Plainview, an itinerant prospector who becomes a turn-of-the-century California oil baron. Written and directed by Paul Thomas Anderson and very loosely based on Upton Sinclair's novel "Oil!," the film encompasses 30 years in the life of a man who starts out mean and only gets meaner. By the end, he's so profoundly isolated by his misanthropy that he's deranged.
Daniel makes his first oil strike when he cons an impoverished family into granting him drilling rights to their property. Teamed with his young son H.W. (the terrific first-time actor Dillon Freasier), he presents an imposing front: The tycoon and the tyke.
Daniel adopted H.W. as a baby and deliberately uses the innocent-looking boy, who is devoted to his dad, as a way to soften potential business allies for the kill. When, at age 10, H.W. loses his hearing following an oil-well explosion, his usefulness is diminished and he is packed off by Daniel to an institution. This scene is the film's emotional high point because, as is typical of Anderson, he makes it bracingly unsentimental.
---