At Sundance, the big draws are Patti Smith, U2, Roman Polanski, Osama bin Laden
At this year's film festival, nonfiction films outshine the usual angst-ridden, quirky indies.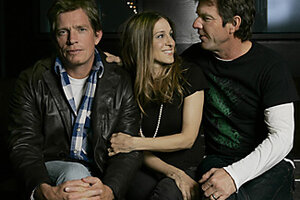 Amy Sancetta/AP
At the opening night for the 2008 Sundance Film Festival, founding director Robert Redford mentioned "change," and the audience let out a collective groan. The most overused word of the political season was poised to become the buzzword for America's most renowned film festival.
But Redford quickly recovered. "We've heard that word being used ad nauseam," he said, "but artists really are agents of change. They're the first responders. They document change as it's occurring in the world around us."
Another type of change at Sundance is the ka-ching kind. Despite its purer-than-the-driven-(Utah)-snow mission to be the premier showplace for independent film – both home grown and, increasingly, foreign – Sundance is also a vast sellers' market where the deal often obscures the movie. In other words, it's a microcosm – a snow globe – of the movie business itself, where art and commerce are forever locked in an uneasy embrace.
And I haven't even mentioned the swag lounges – the city granted 50 more permits than last year to company-sponsored lounges, an alarming uptick in what is often referred to as "Brand-dance."
Braving the bitter cold were bottled-water swigging swarms of bundled-up buyers and journalists and filmmakers and celebrities – everybody from Colin Farrell to Mos Def to the omnipresent Paris Hilton. It was not unusual to emerge from a screening and be greeted with a spray of rock salt from a passing road crew. My critic's dull pallor – the emblem of a life lived in the dark – fitted in well under the mostly gray Park City skies. There were times when I muttered to myself that this was no country for old critics; Sundance tests your mettle. Just how much do you love movies? The answer from here is: Plenty – enough to slip-slide my way in pursuit of the next masterpiece while encased in outerwear that would give the Abominable Snowman pause.
---