Trend spotter: At the movies, the end is nigh...
A wave of apocalyptic releases such as 'I Am Legend,' 'Cloverfield,' and 'The Happening' are the unexpected 'feel good' films of the year.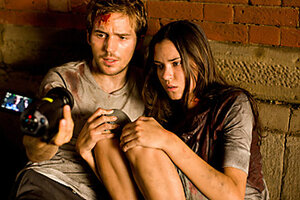 Courtesy of Sam Emerson
Apocalypse, now? A spate of science-fiction films has moviegoers practicing the "duck and cover" drill in cinema aisles.
After the release of "I Am Legend," in which a pandemic turns the concrete jungle of New York into, well, a jungle, viewers have packed theaters to see the gigantic beast of "Cloverfield" (below) play a deadly game of domino-toppling with Manhattan's skyline. Similarly, M. Night Shyamalan's imminent "The Happening" depicts an apocalypse and next year's "The Road" – based on Cormac McCarthy's novel – finds Viggo Mortensen roaming a scorched Earth where the survivors are cannibalistic marauders. (By contrast, the world of "Mad Max" seems like the Club Tropicana.) Even PIXAR's June release, "WALL•E," is set 700 years after mankind has been wiped out.
Why these depictions of the planet going the way of Pompeii? The films may reflect societal fears, such as headlines about the East vs. West clash of civilizations and global warming.
---