Only 'Fools' rush in...
'Fool's Gold' is an unabashed Hollywood moneymaking vehicle. It only rarely succeeds as a form of real entertainment.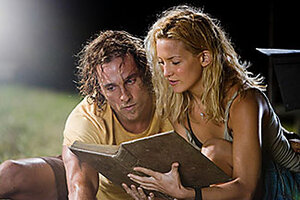 Vince valitutti/Warner bros. pictures
The aptly titled "Fool's Gold" is a retread of a retread – an attempt to cash in on such movies as the "National Treasure" series, which in turn were rip-offs of "Indiana Jones," which, as it happens, is being revived this summer. And so it goes.
Actually, a better title for this movie would be "Treasure Chest," since Matthew McConaughey, playing Ben "Finn" Finnegan, a treasure hunter in pursuit of a sunken Spanish galleon, spends most of the movie with his shirt off. Not since the second and third "Rambo" movies has a movie star done less for the clothing industry. Given the fact that Finn spends most of his time in the sunny Bahamas, it's surprising that the filmmakers didn't work in a plethora of suntan lotion tie-ins.
McConaughey is paired with Kate Hudson, who plays his ex-wife, Tess. They last teamed up in "How to Lose a Guy in 10 Days," an inexplicably successful romantic comedy that proved you don't need chemistry to make moolah. The chemistry in "Fool's Gold" isn't so hot, either – maybe because the chief object of McConaughey's affections is himself. Finn is supposed to be helplessly in love with Tess, who, of course, still loves him despite/because of his roguish ways. Since it's a foregone conclusion that these two will reunite, I kept waiting for something nifty to bring them together again. No such luck. There's only fool's gold in this galleon.
---