'Definitely, Maybe,' not worth it
Ryan Reynolds and Abigail Breslin star in a new romantic comedy, which unwinds like a somewhat improbable Hollywood fairy tale.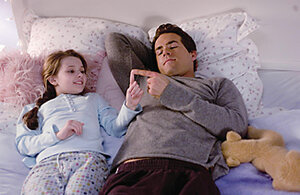 Courtesy of Andrew Schwartz
The romantic comedy "Definitely, Maybe" is as memorable as its title. A lot of talented people are awash in this mediocre mix of corn and giggles.
Ryan Reynolds plays New York ad man Will Hayes who, much to the befuddlement of his 10-year-old daughter Maya (a too-precious Abigail Breslin), is getting a divorce. In their first scene together, he picks her up from school, where she has just emerged from her first sex education class. Improbably – but we're in Hollywood after all – this leads Maya on a quest to discover how her parents met and fell in love.
Instead of just telling her – which would have shortened the movie considerably – Will devises a kind of bedtime fairy tale in which he recounts his romances with the three women who have meant the most in his life: his college sweetheart Emily (Elizabeth Banks); April (Isla Fisher), a ditsy co-worker in the days when he was working on the Bill Clinton campaign; and acerbic journalist Summer (Rachel Weisz). Because Will has changed their names, it's up to Maya (and us) to figure out who among the three is her mother.
---