'Casablanca' star lives in the shadow of his character
Paul Henreid, who played Nazi resistence leader Victor Laszlo, never achieved the fame of some of the movie's other stars and played largely European-type roles.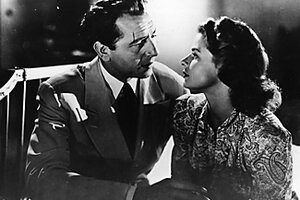 picture post/getty images
"Welcome back to the fight," Nazi resistance leader Victor Laszlo says to Rick Blaine at the end of "Casablanca" – as the famous plane to Lisbon sputters and roars. "This time I know our side will win."
It's one of the finest Hollywood scenes ever – apotheosized by black and whites of Humphrey Bogart (Rick) and Ingrid Bergman (Ilsa Lund) face to face in the night fog, saying goodbye at the airport so her husband Laszlo can escape. They will always have Paris.
Of this trio, the elegant character of Laszlo, played by the refugee Austrian actor Paul Henreid, is nearly forgotten – in film and in real life. He went on to play roles as European types, Nazi heavies, and freedom fighters, as well as raised war bonds in Washington. But he got blacklisted in the McCarthy era for refusing to divulge the political views of fellow actors, and ended up directing TV fare for 25 years. Bogart got an Oscar nomination for "Casablanca." Henreid got typecast. He never broke free, becoming one of the countless Tinseltown footnotes who lived outside the Oscar glare.
---