'Under the Same Moon' takes illegal immigration to melodramatic heights
Strong production values elevate tale of a young Mexican boy trying to reunite with his mother in the US.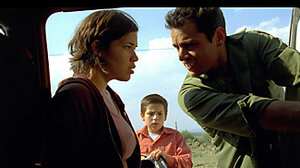 Courtesy of fox searchlight
Some tearjerkers are jerkier than others. "Under the Same Moon" is such an unabashed four-hankie experience that Kleenex should become its official sponsor.
Little nine-year-old Carlitos (Adrian Alonso) lives with his ailing grandmother in a Mexican border town while his illegal immigrant mother Rosario (Kate del Castillo), whom he has not seen in years, works as a housekeeper and nanny in Los Angeles. She sends him $300 each month and every Sunday calls him from a pay phone in East Los Angeles at the same pre-arranged time. Both Carlitos and Rosario live for these calls. The boy, who knows nothing of his errant father, dreams of seeing his mother again and wonders why she had to leave him behind.
Carlitos finds himself suddenly on his own and, spunky kid that he is, decides the time is right to cross illegally over into America and reunite with his mother – even though his only knowledge of her whereabouts is a post office box in Los Angeles. Meanwhile, unaware of her son's journey, Rosario is contemplating a return to Mexico. It's like an O.
Henry story remade as a telenovela.
But director Patricia Riggen and screenwriter Ligiah Villalobos are not exactly pikers. Although this is her first directorial feature, Riggen pulls out all the stops as if she'd been directing soap operas for years. And Villalobos has worked as a writer and executive for Disney and NBC, among others. In no sense can "Under the Same Moon" be deemed the work of do-it-yourself types. The "amateurism" of this movie is highly professional. It's slick about being unslick.
---