(Owen) Wilson's War
In 'Drillbit Taylor,' a group of geeky friends hire a bodyguard to help ward off the bullies.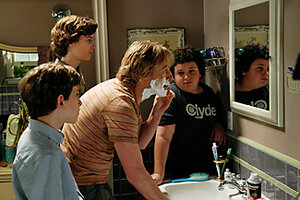 courtesy of suzanne Hanover/paramount pictures
In "Drillbit Taylor," Owen Wilson plays a homeless Army dropout who cadges for spare change in Los Angeles and hangs out with a band of scuzzy hoodlums. Just another searing drama about the toll the Iraq war is taking on the home front.
Just kidding.
This latest whiffle ball from Team Apatow is a mildly amusing comedy in which Wilson plays a bodyguard hired by three well-to-do freshman high school nerds to protect them against a pair of bullies. It reworks not only movies like "My Bodyguard" but also a host of Apatow-produced films such as the much better "Superbad."
Apparently there is an infinite supply of nerdy-looking young actors out there, and the trio here are well cast. Ryan (Troy Gentile) looks eerily like a pint-sized Seth Rogen (who co-wrote the screenplay). Wade (Nate Hartley) is a human beanpole. Motormouth Emmit (David Dorfman) is the geek's geek. He makes his first appearance being stuffed into his own locker by bully-in-chief Filkins (Alex Frost). Frost, incidentally, played the teen psycho who goes on a Columbine-style massacre in Gus Van Sant's "Elephant." Maybe it's time to get a new persona.
---
Follow Stories Like This
Get the Monitor stories you care about delivered to your inbox.