'21' doesn't play its cards right
What happens in Vegas isn't very exciting in this true story of an MIT math student turned card sharp.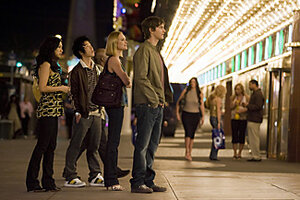 courtesy of peter iovino/columbia pictures
Good movies about card sharks should be far more plentiful than they are. Is it because card playing is not as inherently visual as, say, pool hustling? Still, you'd think that, with all the TV hours devoted to poker, some enterprising filmmaker would figure out a way to make it all work for the movies.
Last week we had "The Grand," an improvisational mess starring Woody Harrelson about a high-stakes poker tournament. This week there's "21," based on Ben Mezrich's nonfiction bestseller "Bringing Down the House" about Massachusetts Institute of Technology students who used their card-counting skills to score millions in Las Vegas.
The film is "inspired by" the book – i.e., great liberties were taken. But the essential premise is true, and it's a doozy. If only director Robert Luketic and screenwriters Peter Steinfeld and Allan Loeb had not opted for glitz. As filmmakers, they're playing for very low stakes.
---